The Great Witness of this 6th edition did a keynote, this Wednesday, about her experience and the work of EYE Film Museum which combines both the role of the museum and of an cinema institute.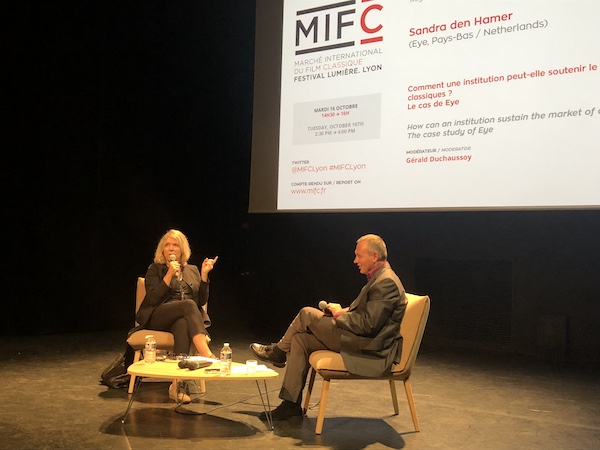 After having mentioned in the outline of her career, from intern at IFFR to Director of the Film Museum, through the management of the IFFR and the coordination Cinemart and the Hubert Bals Fund, motivated by a strong love of cinema - "So, as a trainee, I could see as many movies as I wanted without paying tickets!" - and a true sense of continuity.
The real peculiarity of the EYE is its duplication, being both an institution and a museum. After a long think about the meaning of this last word, it was decided that, in the new building which was inaugurated in 2012, this museum will be about lively cinema where heritage films would cross the path of current feature films but also moving images of the future like the experimental video, including an experience combining internet research, artificial intelligence and archives. And VR, the museum having notably received Carne and Arena from Mexican movie director Alejandro Inarritu.
EYE is also a large collection of more than 50,000 films. Dutch films, or ones financed by the country obviously, but also a collection of international films chosen for their cultural and aesthetic relevance in a desire to preserve and share the world heritage, particularly focused on the art film.
Seven schedulers work for the four cinemas of this institute-museum. Cinema screening with live music, but also features for children from 2 to 4 years old on Sunday named Cine-mini, retrospectives and even connections with other arts, with the Eye on Arts program, give rhythm to every EYE year. Some special features, often on political themes, such as a portrait of America at the time of the elections or May 68, but always from the point of view of cinema, complete the whole set. The place hosts other festivals as well. EYE also focuses on film eductation with features and methods created for an audience from 4 to 18 years old. "So they better understand the meaning of editing and the use of images but also develop their creativity," says Sandra den Hamer.
On the institutional side, EYE is also very active. Financed by state subsidies, it also runs on the income of its entries and money from the patrons and private funds. Especially since the budgets for culture were reduced a few years ago in the Netherlands. EYE used to distribute low profile art films, but now it focuses its actions on classic and short films and other experimental one in order to not encroach on local distributors. In 2007, EYE launched a large digitization plan for its collection, called Images for the future, to preserve it with a desire to do it quickly with the whole collection. They stepped-back because the quick changing nature of digital formats and because celluloid remains the safest format in the long run. Now EYE does digitizations on demand, especially for filmmakers who would like to edit their own work.
Sandra Den Hamer concluded her presentation of the Dutch model by broadening on European issues. She explained that the preservation of heritage cinema is essential and that the European Union, which mainly encourage production, does not always take the right path: "We should produce less and care more about what we already have. We must not forget that today's films are the heritage of tomorrow, we have to think about it". According to her, international cooperation should be established between countries especially about classic movies' royalties in order to have a larger audience and make it more accessible for everyone. "It will take a lot of effort and work" she said with a smile before showing a short and silent Dutch movie about women acrobats, a metaphor, according to her and with a little touch of humour, which demonstrate the difficulty to carry out projects in the EU.