On Tuesday 16
th
of October, during the sixth edition of the MIFC, a first roundtable moderated by Patrick R. Marteau made an overview of the current situation and the future of physical video support.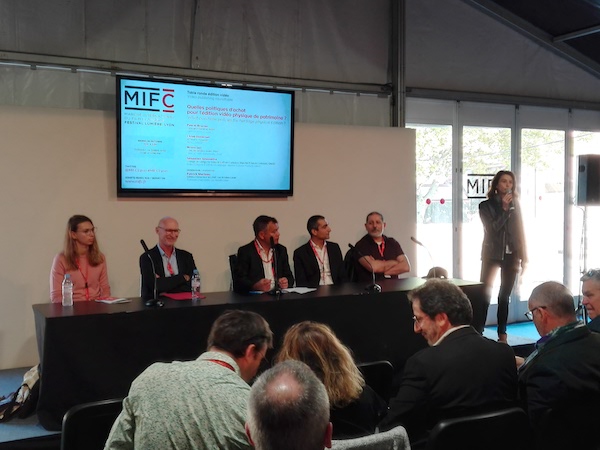 At a time when dematerialization and digital support are becoming more and more entrenched in consumers' lives, what remains of physical video support ? DVDs and Blu-Rays seem to be relegated to the corner of a dusty shelf but nevertheless the various sales areas maintain their focus in the promotion of heritage films.
Bruno Jan (Head of video department, FNAC), Chloé Duvernet (Buyer, Amazon), Pascal Brunier (General director, ADAV) and Sébastien Simonetta (Video Category & Gift Boxes Manager, Market Cultural Products, GALEC) met in this sixth edition of the MIFC to prove that the physical video support, even if it's down, is not dead. Better still, heritage is a promising market.
One of the strengths of physical video support, mostly Blu-ray and Blu-ray HD, is undoubtedly the nostalgic aspect of the product. Some film buffs like to own them, in a collectors approach, but they are especially, in an urge to buy, a good gift for someone, to share with them a piece we loved. "The heritage cinema creates a link between all of us, it's a bit like a Madeleine de Proust," says Bruno Jan. And video support is a good way to transmit it. These films, which are part of the collective memory, restored in beautiful editions often motivate consumers to buy. The goodies and other books that embellish these editions work yet better with an already committed public: "Value-added products work very well on Amazon. Goodies are very effective on a fan base, " adds Chloé Duvernet, but to penetrate the market for a long time, standard editions, with good quality but less expensive are still the best solution.
To attract the consumer, even if the first argument is the film itself, there is also a strong work of highlighting. For ADAV, this is done with a catalog published twice a year and a more themed website that allows these highlights. For Amazon, the work is done more by a personalized promotion based on the research history of potential buyers. FNAC relies on a database of 4 million customers to "predict" the market and its direct relationship between sellers and consumers; Leclerc, meanwhile, sees his stores as a soundbox of the work already done by the publishers and base his choices on buying logic on a larger scale. The consumer of physical support often being very eclectic in his purchases.
Mostly, the DVD / BluRay market is down by around 15%, but heritage films, by its diversity and its large number, suffer the least, decreasing by only 5 or 10%. On the ADVA's side, which provides particularly media libraries, colleges and other schools, the penalty is heavier, especially because of the decline in cultural budgets and calls for bids down by 30 to 40%: "The sunny days are behind us," notes Pascal Brunier.
Finally, about the match DVD vs. Blu-Ray, if Sebastien Simonetta points out a lack of logic between the progress of purchases of 4K TVs and the lack of emphasis on Blu-ray, it's clear that the DVD is still undeafeted. Either for the sake of equipment as specified by the ADAV General director, or by a commercial failure at the time of the Blu-Ray format launch as affirmed Bruno Jan, the DVD having been presented as THE definitive support in the early 2000s. If everyone agrees that it's necessary for films to be preserved in the best possible quality so that it continues to exist, Chloé Duvernet concludes on the need to educate the viewers to these new formats and to this discourse on the preservation of movies.