Special Guest 2020
Nathanaël Karmitz - Chairman of the board, mk2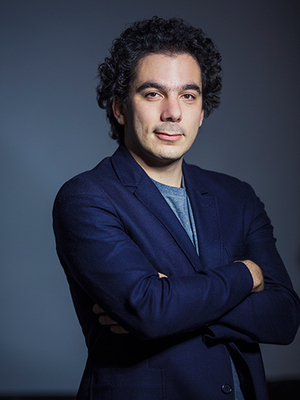 A producer, exhibitor, distributor, a man of events, publishing and culture, Nathanaël Karmitz is Chairman of the executive board of the French group mk2.
Featured as the Special Guest of the International Classic Film Market 2020, he will discuss strategy, heritage policy and projects of the group with us during the Lumière festival.
Active during the lockdown with the free mk2 curiosity offer, securing an agreement with Netflix in the thick of current events, he continues to place auteurs at the core of issues being played out before our eyes.
His discourse, energy and insight are highly anticipated at the MIFC. In three questions, he explains avenues he will further probe during his keynote in October and at several other presentations scheduled at the International Classic Film Market.


© Philippe Quaisse©mk2

Ahead of his keynote address, we asked Nathanaël Karmitz three questions :


What can you tell us that we do not already know about mk2?
Things that not everyone knows, in any case: That mk2 is the 3rd operator in Spain, that we hold the Guinness World Record for organizing the largest private 3D screening in the world at the Grand Palace, that we have just launched a production of podcasts, that we had to cancel a major exhibition on Abbas Kiarostami at the Georges Pompidou National Center of art and culture due to COVID (but it will be held next year).
What surprises does mk2 have in store for us this fall?
There are many! A new website for our platform of cinephile oddities and curiosities, mk2 Curiosity, which has now become a long-term project, a new format for our magazine Trois couleurs, and a project particularly close to our heart: the launch of the mk2 Institute. At the end of the year, the opening of the Paradiso hotel, the first cinemahotel, in Place de la Nation in Paris. And of course, films, with a series of five works by Claude Chabrol restored in 4K, «Women and Suspense,» the 120th anniversary of Chaplin's The Kid in January 2021...
How is mk2 a link between the past and the future?
Transmission is an essential value and has been since the origin of mk2. Family, with our collaborators, towards the audience... At a time when individuals fear the future, seeking their place, always more connected yet always more isolated, cinema transmits history and prepares the future, providing a link between generations and civilizations. And it is by working every day to open horizons of thought and by transmitting culture that we attempt to build the future.
.

---
Meet Nathanaël Karmitz at the following events:
>

Tuesday, October 13, 11:00-12:30:

SPECIAL GUEST'S KEYNOTE

>

Wednesday, October 14, 10:00-12:00:

ROUNDTABLE

«The changing heritage sector»

>

Thursday, October 15, 9:30-11:00:

ROUNDTABLE

«Cinema theatres in action»